Technical Support
Are you having difficulty viewing our Live Events? Click below to run a Diagnostic stream test.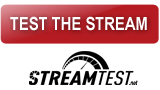 Please follow the Troubleshooting Steps below to help resolve your problem.
Notes:
Our live video streams are NOT compatible with AOL browsers or older versions of Internet Explorer. If you experience problems, please try using the latest version of Internet Explorer, Firefox, or Google Chrome browsers.
At this time you are NOT able to view our live video stream in full screen on your computer.
If you have right clicked on the video player and clicked on the "Toggle Experimental Mode" button you have disabled your video player and it will not work correctly. To resolve the problem please follow the steps below:
If you are using Safari or FireFox just right click on the video player and click the Toggle Experimental Mode button again and your video player will work.
If you are using Internet Explorer, follow the steps below:
Right click on the video player
Choose Global Settings
Allow Windows Control Panel to open
Click on the Advanced tab on the top far right
Click the Delete All… button in the Browsing Data and Settings box
Make sure the box is checked for Delete All Site Data and Settings
Click the Delete Data button in the lower right corner
Close window
Click in the middle of the video player and your video player will work again.
If you are using Chrome, follow the steps below:
Click on Chrome from the top menu bar then click on Clear Browsing Data…
In the pop-up window, check the box next to Delete cookies and other site and plug-in data. Deselect all other boxes
Click the Clear browsing data button in the lower right of the window
Close window
Refresh the video player browser window
Click in the middle of the video player and your video player will work again
Troubleshooting Steps
Step 1

– Minimum Technical Requirements

Computer: Please make sure your computer meets the minimum requirements to view our Live Events.
Microsoft Windows XP SP2, Microsoft Windows Vista, Macintosh OS X v10.4 or above, or Linux
256 megabytes (MB) of RAM – 512 MB recommended
Super VGA (800 x 600) or higher resolution
16-bit sound card
Speakers/headphones
Internet Explorer 11.0 or above, Firefox 2.0 or above, Safari 3.0 or above, or Chrome 4.0 or above
Adobe Flash Player 10.0.32 or above. If you don't have Adobe Flash Player you can download it here.
JavaScript and Cookies must also be enabled
Mobile Device: Our Live Event video streams are compatible with mobile devices including Apple iPhone, iPod Touch, iPad, Android phones and tablets, and Blackberry* phones.
*NOTE: If you are trying to view the live streaming on a Blackberry device with an operating system older than version 6 you must upgrade to version 6 in order to watch the live feed.
There are no other mobile device issues known at this time.
Step 2

– Internet Connection Speed

For a reliable* viewing experience we recommend a downstream connection speed of at least 700Kbps**. Please test your connection speed by visiting SpeedTest.net. We recommend testing several times as bandwidth can fluctuate.

If you are viewing our Live Event video streams on a mobile device, it is recommended that you connect to WiFi if possible. Viewing over a mobile network*** will require a fast 3G, 4G or LTE connection. You can test your mobile device internet connection speed by downloading the SpeedTest.net mobile app located here.

*NOTE: A wired internet connection will be more reliable and deliver more consistent connection speeds than WiFi.
** 1,000Kbps = 1Mbps.
*** Mobile network data usage rates may apply.
Step 3

– Tips

If you meet the minimum computer requirements and internet connection speed, try these other tips.
Quit and restart your web browser
Try using a different web browser
Try restarting your computer.
Step 4

– Call Tech Support

If you are still having technical problems or for any other questions, please contact Lavoy Shepherd at 805-686-1010.